Jan Baalsrud
Med livet som innsats reddet kvinner og menn i Nord-Troms Jan Baalsrud fra en sikker død, da han flyktet fra tyskerne våren 1943. Den dramatiske flukten fra Rebbenesøya til Sverige som varte i to måneder, har blitt skildret både i bøker, filmer og teater. http://nordligefolk.no/sjosamene/historie-religion/jan-baalsrud/
About the museum
The Museum of Northern Peoples works with documentation and communication of regional Sami culture and contemporary history in particular, and northern people's art and cultural expressions in general. The museum's most important tasks are collection, documentation and dissemination. Communication takes place through our basic exhibition mii, temporary exhibitions in the museum gallery, digital dissemination and through direct meetings with the audience.
Prices
Entrance: 30,- NOK / Adults

Groups: 150; NOK

Kindergarten/ Primary schools: Free entrance and guiding!
Sjit helvedes kåken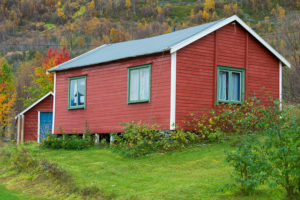 This historic house is known as both Sjåbakkenhuset (Sjåbakken's house) and Sjit helvedes kåken (can be translated to a shithole of a shack) and has these two names for good reasons.
A man by the name Anton Sjåbakken lived in this house after coming back home after the 2nd World War. His original home, like the other houses in the Manndalen, had been burnt down by the Germans during the 2nd World War, in 1944.
If you want to visit Sjåbakkhuset send an e-mail to:  post@nordligefolk.no or call: +47 91104059.
Price: 100 NOK
Exhibitions
About The Museum and The Exhibitions

The basic exhibition mii gives an insight into the sea sami culture in northern Troms and central Troms, focusing on thematic main features; cultural history, religion, duodji, politics and business practice, all that reflects identity design and living in the region. mii contains cultural and contemporary objects, and interactive displays, where relevant movie clips, images and text give the audience the opportunity to immerse themselves in the themes. Contemporary art by local artists is part of the exhibition.
Basic exhibition
mii – insight into the Sea Sami culture

Contemporary exhibition
Duodji dreamers

10 young duodji practitioners have chosen one work each from the collection at the Sami Art Magazine in Karasjok as inspiration for a new work they have created. Both their chosen inspirational work and their new work is part of the exhibition.